Learn the end-to-end process for innovating hardware in 30 days. From brainstorming ideas to practical methods of building things using mechanics, electronics, and programming, this course will have you covered.
WHY STUDENTS LOVE THIS EXPERIENCE
Its very different from the traditional, dull courses, filled with action, humor and most of all comprehensive teaching of concepts. Vijay engages with the theme of story telling throughout and makes learning effortless. Loved all the insights shared and will be looking forward for advanced version.


Amazing Course!!!! I felt this was the best course to take for a beginner person like me to understand from basics to a little bit advanced things in the field of electronics and mechanical as well as presentation.


Do not doubt! You will learn a lot! As a beginner, I had tons of content to dig deep into and open up many worlds from CAD to IoT. You won't regret it!


A must-take course for engineering students and professionals alike of all branches. There is something new to learn for everyone. Vijay does a brilliant job at explaining tough concepts and made them really easy to understand. I feel I have my fundamentals really strong now.


What I like about this course is that it improves our ability to think and it also covers the mechanical part and electronics part rare combo which is not seen in most of the courses out there on the internet. This course will be worth your time and money. Take my word you will never get bored during this course. I am fully satisfied with my outcomes.


The whole course is structured in a way that you learn something new irrespective of your past experiences and know-how. If you don't know where to start out as an engineer or rather as an innovator, HERE it is With the enthusiasm and the storytelling skills of Vijay sir, you will learn more than you do in your normal college classes. Thank you, Vijay sir and team, for this beautiful course.


Vijay Sir did a very great job guiding us and trust me no one can explain the way he does. You will be getting a brief idea of how your Engineering life will be by the end of it. You just get excited and ambitious to do a lot of things, that is the way sir teaches you in the course. You get inspired and Start Doing. Imagine if you just become a great explorer in the field of Engineering. That is how you will be after this Course.


It was a great memorable learning journey with Fracktal Works' Innovative Engineering. A ton of thanks to the entire team behind the Course. And special thanks to the Course Moderator, Vijay Varada, for very professional teaching and engaging content. It's never been felt boring and is always full of enthusiasm, energy-filled and ever refreshing. The course brings out lightning innovations in the ordinary mind. And brings out the hidden innovator in anyone, no matter how beginner they may be.


I expected to learn alot from this course but eventually I ended up learning alot more than I expected. Yes, I learnt alot more unexpected things which are essential for the same. I feel this course is just the tiebreaker of this generation and is a need of any individual who wants to make life easy or contribute towards society with their innovative skills. I'm very grateful to Vijay Varada sir and the Fracktal team who made this course so much understand and I enjoyed learning and building skills.


Amazing course!! Just awesome and it has definitely increased my confidence to start something , be it a project or any task for that matter. It has given me a solution to a 20-year-old problem of how to go about things.


COURSE OF THE YEAR 2021 ! THANK YOU VIJAY SIR FOR SUCH A GOOD COURSE I REALLY LEARNT A LOT FROM THIS COURSE THE WAY YOU TEACH WAS JUST PERFECT AND BECAUSE OF YOU I WAS ABLE TO MAKE MY FIRST PROJECT AND THAT THE WAS BEST FEELING FOR ME !!


This course was just awesome! Hats off to Vijay for just making this whole learning experience so fruitful and enjoyable.


Never have I ever learned so FAST in so short a duration. This course was a fun learning experience as we covered all aspects of Mechatronics. It gave me confidence and a spark that I lost during this monotonous Pandemic. Very well structured and delivered with enthusiasm, the final build gave me the assurance that I can also make stuff and be an engineer in a real sense.Thanks to Vijay and Team


Called a "Technology Changemaker" by TEDx,  Vijay Varada is an obsessive tinkerer, award-winning inventor, storyteller, and entrepreneur who works at the intersection of art, design, and technology. 

He is a Mechatronics engineer and the founder of Fracktal Works, scaling it from his dorm room in college to a national brand in 3D Printing.
He is an author, a two-time Hackaday Prize winner, TEDx Speaker, 25under25 2016 Alumnus, and also set up the world's first 3D printed wind turbine in Antarctica on an expedition with Climate Force 2041.
end-to-end innovation skills
Design-Engineering Process
Learn the end-to-end process of an innovative engineer, from brainstorming ideas and defining requirements to prototyping, testing, and constructing a build.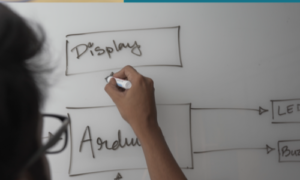 Research and Exploring Design Options
Breaking a complex problem into individual parts, conduct experiments, research and analysis on various design options to determine the best build path.
Principles Of Mechanical Engineering
Get your mechanical fundamentals really strong and be able to build amazing contraptions that move and work as your design intends. Understand the working of simple machines to motors & pneumatics.
Materials and Build Techniques
Turn ideas into real objects and devices using simple materials and assembly techniques. Learn the construction processes and tips for working with wood, metal, and plastic, so that you can build anything you can imagine.
CAD Modeling with Fusion 360
Learn how to use Computer-Aided Design software for visualizing, planning, designing, and ordering parts.
Bring your CAD designs to reality using 3D Printing. Learn how to practically use this technology for creating parts for your projects.
Circuitry, Sensors, and Effectors
Understand the physics behind electrical systems, from sensors used to process inputs to effectors that make things happen.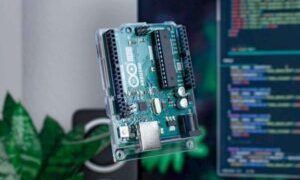 Programming Circuits with Arduino
Give your circuits intelligence using microcontrollers & programming with the Arduino ecosystem.
Internet of Things using MQTT
Make your electronics talk over the internet to remotely send sensor data or receive commands to actuate effectors using M2M protocols like MQTT.
Introduction to Embedded Linux & Raspberry PI
Take what you would have already learnt with electronics and programming to the next level, and perform highly complex tasks with ease using the Raspberry Pi.
Documentation & Version control with Git
Document and manage your projects like a world-class engineer using Git and Github and leave your digital fingerprint online for the world to recognize your potential.
Presentation & Storytelling
Learn how to package your projects and builds with presentation & storytelling and get others to care and support the things you build.
Check out Lesson Previews:
Build something that matters
This course gives you practical skills that you can directly implement into building creative engineering solutions that solve a problem in your own life. 
By the end of the course, you will be applying all that you learn into a personalized innovative build of your own and leave your digital footprint on the world with professional documentation and storytelling.
Check out previous innovative solutions from our students here.
HIGH QUALITY CONTENT. PERFECTLY STRUCTURED.
Learn through a step-by-step curriculum

Before class starts, there are few things you'll need to do to be ready to go on Day 1. We explain how to get set up, what to expect, and how to get the most out of the class.

  Welcome to the course!

  Using the Learning Platform

  How to learn FAST

  Creating your own build for this course
Tools & Materials Overview
Safety & Waiver
5 Lessons – 0:45 hours

The course begins with the Design Thinking methodology for problem-solving. Brainstorm and research problems worth
solving.

  Introduction to the Course

  The Design-Engineering Process overview

  Introduction to Brainstorming

  Brainstorming Part 1 : Scenes

  Brainstorming Part 2 : Problems

  Brainstorming Part 3 : Solutions

  Down-selecting and funneling ideas
Assignment 1 : Brainstorm your idea!

  Introduction to the Research phase

  Research Part 1 : Requirements & Exploration

  Research Part 2 : Research & Experimentation

  Conducting Experiments

  Sketch out your design!

  Week 1 Summary
Assignment 2 : Sketch out your build!
14 Lessons – 2:42 hours

Gain skills to build physical prototypes using digital fabrication technologies as well and traditional techniques.

  Introduction to Prototyping

  Prototyping

  Troubleshooting & Iterating the Prototype

  Materials & Tools

  Simple Machines

  Angular Motion

  Linear Motion

  Transfer of Motion

  Testing the prototype of the first build!

  Introduction to Computer-Aided Design

  Overview of Fusion 360

  Part modeling in Fusion 360

  Assemblies and Joints in Fusion 360

  Designing the Cat-O-Matic in Fusion 360

  Exporting for Digital Fabrication

  Introduction to 3D Printing

  3D Printing and Slicing

  Final Build

  Finding Ideas Online
18 Lessons – 4:12 hours

Learn the fundamentals of electronics as well and how it can interact with the physical world along with code and logic.

  Introduction to Electronics

  Electronic Fundamentals

  Creating Logic with Electronics

  Introduction to Arduino

  Arduino Hardware Overview

  Arduino Software Overview

  Programming Fundamentals

  Programming with Digital I/O

  Analog Input/Output

  Interfacing Peripherals

  Hi 5 Robot : Research & Exploration

  Hi 5 Robot : Sketching & Planning an Electronic Build

  Prototyping Internet of things

  Hi5 Robot Prototyping & Iterating

  Hi 5 Robot Final Build
16 Lessons – 3:45 hours

Apply the scientific method to test assumptions, build prototypes and present themselves to the world in a manner that makes stakeholders care.

  Raspberry Pi introduction

  Setup & Installation

  Raspberry Pi Programming Overview

  Documentation & Storytelling

  Introduction to version control and collaboration with Github

  Keep Learning and Growing as an Innovator
Final Build Submission
7 Lessons -1:15 hours
GET constructive FEEDBACK AND MAKE new FRIENDS
Engage with other students, professionals, and mentors in the Innovative Engineering community and get help, support, and personalized feedback during your learning process and beyond with lifetime access to the community.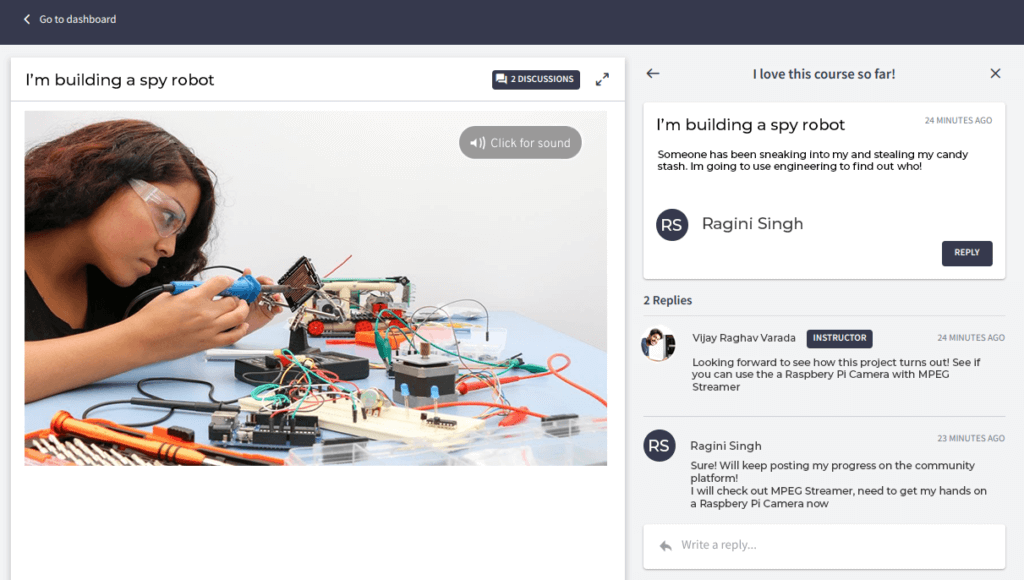 DRASTICALLY LEVEL UP YOUR SKILLS
Course Cost
Register and start Learning now
High school physics 
Basic mathematics aptitude 
Prior programming background is not mandatory, though students might have a slightly steeper learning curve without it. 
We guarantee you are going to love it.
Get 100% money back up till day 7 of the course if you don't. E-mail support@fracktal.in, no questions asked.